Audio Analysts was founded by Don Wesner over 17 years ago.

Don is a graduate of University of Kentucky's College of Engineering. He earned a degree in Mechanical Engineering in 1979. Don is also a registered Professional Engineer in the state of Kentucky. He is also a Synergetics Audio Concepts (Syn-Aud-Con) multi-time graduate and has attended many classes held by the National Systems Contractors Association (NSCA).

Don's experience in sound reinforcement began at Southland Christian Church in Lexington, Kentucky. He got involved in upgrading the sound reinforcement system and installing recording equipment for television broadcast. This was over twenty years ago when Southland began their TV ministry. He also operated the house sound system for all worship services, morning and evening as well as all special programs including all Easter and Christmas pageants for a number of years. This passion as a volunteer became his number one hobby and then his vocation. He had gathered lots of experience in addition to Southland and decided to create a business to provide these services to others. Don still has a passion for productions and would love to help you achieve excellence on your project.

In addition to his vocation as a sound contractor, Don has been employed as a fork lift product designer, furniture mechanism designer, consulting engineer for commercial HVAC and plumbing systems and automated machine designer.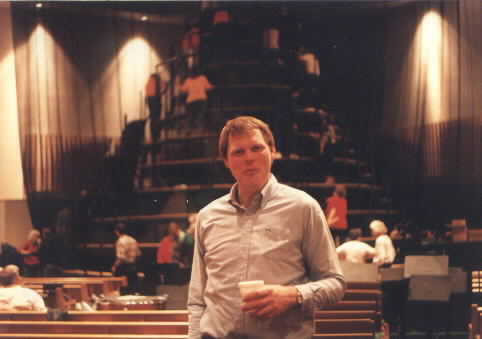 Don at Southland during Christmas set up. Yes, that's the Living Christmas tree behind him!